Uwe Steinmueller
|
06-9-2012
Brand new in Lightroom 4 (actually introduced in LR 4.1) is a capability to import HDR images and also to tone-map them. Essentially the Tone controls in Lightroom are based on tone-mapping functionality that can also be used for higher dynamic range images.
When we say that Lightroom 4.1 can import HDR images we need to mention that these HDR files have to be stored as TIFF or DNG files. If your HDR images use the Radient or EXR format you would need to convert these files in Photoshop to TIFF. Lightroom 4 can import these files but cannot merge multiple images into HDR. Merge to HDR can be done in Photoshop or some other 3rd party HDR tools. Photomatix can merge your images and also allows you to save the HDR images as TIFF files.
HDR Sample
This is one of our classic Fort Point photos. The HDR was created from 3 exposures at 2EV apart. Camera was a Nikon D3x with the excellent Nikkor 14-24mm f/2.8 zoom.
1. Lightroom 4 Defaults
At first this looks like a mission impossible if it would be a normal exposure.
2. Basic Tuning

• As a first step we set the Highlights to -100 and Shadows to +100.
• Then we adjusted the Exposure to +1.8 (for HDR the range of Exposure is extended from -10 to +10)
• Added a bit of Clarity and Contrast
3. Tone Curve Enhancements
For HDR photos we find the use of the Tone Curve essential.
4. Brush Tuning #1
The windows look too bright for our taste. Fortunately we can use the brush tool also for our HDR images. Some strokes with a darkening brush (Exposure -1.01) help already a lot.
5. Brush Tuning #2

This time we use a brightening brush (Exposure +0.59) to slightly open the shadows.
Note: Remember that all tools are non-destructive and can be changed later at any time.
Here is our final result:

We have tone-mapped this image countless times and think this is one of the best tone-mapping results we got. Of course the same tone-mapping can also be used in Photoshop because Camera Raw 7.1 implements the same functionality as Lightroom.
Lightroom creates so called "natural" looking HDR images. If you want a more grungy look you may need to use 3rd party HDR tools.
Learn more about HDR: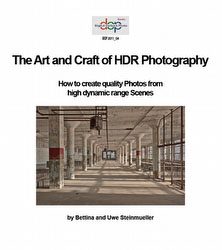 Learn more about Lightroom from our e-books:
in
Lightroom
| |
Email Article
|
2 Comments